We are a division of i3 Verticals LLC, a full-service payment processor and bank member of Deutsche Bank, Wells Fargo, and Merrick Bank. Your information is never shared, sold, or used for marketing purposes. Account information is stored with PCI Level 3 certified 128kbp bank-level encryption.


Quick-Start Guide to Collecting Rent Online:
Getting set up to receive funds via direct deposit is simple for landlords. If you need help along the way, feel free to call us at 800.621.1423 M-F 9am - 6pm EST

STEP 1 of 4) Create an Account
Go to http://placepay.com/landlord and click "Sign Up" in the upper right-hand corner, and fill in your basic information.


STEP 2 of 4) Add Deposit Bank Account
This should be the bank account you would like rent payments to be deposited into.
Click the "Set-Up Direct Deposit" button that appears at the center of your screen.
Click "Select Payment Method" and select "Add Payment Method" from the dropdown.
You will then be prompted to fill out your bank info and agree to user terms.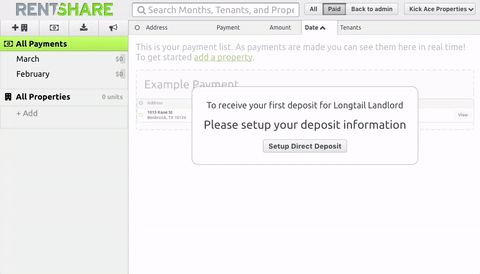 Once you've added your bank account there is only one more step left!


If you have over 50 units we encourage you to reach out to sales@placepay.com for help with these next two steps.



STEP 3 of 4) Link Your Rental Property

Adding your rental property will automatically link your new landlord account to your residents' existing accounts so that future payments are sent to your bank account! You can do this yourself by following the instructions below, OR you can email us the rental address you wish to link and we will take care of linking the property for you. Send requests to help@placepay.com

DIY Instructions:
Select "All Properties" on the lower left-hand side of the screen.
Click "Add" directly under "All Properties"
Enter the rental street address and press "Add Property" button
At this point, if you have any tenants already with accounts, you should see the names of your current residents automatically populated next to their unit numbers. If not, try adding the unit number yourself and refresh the page.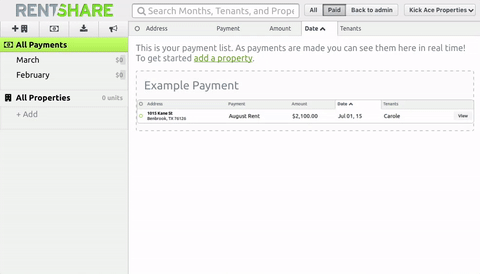 STEP 4) Inviting Your Tenants & Setting Up Invoicing

In order to invite your tenant, click where it says "No Tenant" to set up a new "lease" and enter a tenant's email address and amount due. That is the minimum needed to allow a tenant to connect and pay, but you can do a lot more with invoicing and leases if you want to be more hands-on. For more detailed instructions on creating leases and setting up invoicing click here.

When you create a new lease on PlacePay, your tenant will receive an invite email, but they do not need the email to setup. All they need to do is create a PlacePay account with the SAME EMAIL that you added to the account. That will automatically allow them to link to the account. After that, they can set up their own payment methods, control auto-pay, invite roommates, and edit how much each roommate pays.