The following is a guide specifically for Integrated Property Management Merchants who use a third-party resident portal and/or accounting software provider.
PlacePay's Merchant Dashboard for Integrated Property Managers is primarily used as a supplemental resource for transaction research, bank reconciliation, and initiating refunds. You will primarily be using your third-party accounting/portal provider for all of the above but as a PlacePay customer, you have access to your Payment data independently through this dashboard.
Topics Covered:
Logging in and Resetting Passwords
Summary Page Overview
Transaction Search
Refunding and Voiding
Export Transaction CSV
Add Employee / Team Member User Accounts and Assign Access
Reviewing and Updating Merchant Accounts
Logging in and Resetting Passwords (For New Merchants):
As a first-time PlacePay merchant you will receive a link from your account rep instructing you to set up your password. Follow the link to a unique placepay.com URL that will allow you to set a new password and then access your dashboard.
The next time you want to log in, navigate to PlacePay.com and use the log-in button in the upper right-hand corner. Your username is your primary work email.
Forgot password? No problem. When you click "login" on the placepay.com home screen, click "Forgot" and it will direct you on resetting your password.
Summary Page / Dashboard Landing Page:
NOTE that if you have not yet received any payments, your summary page will appear blank.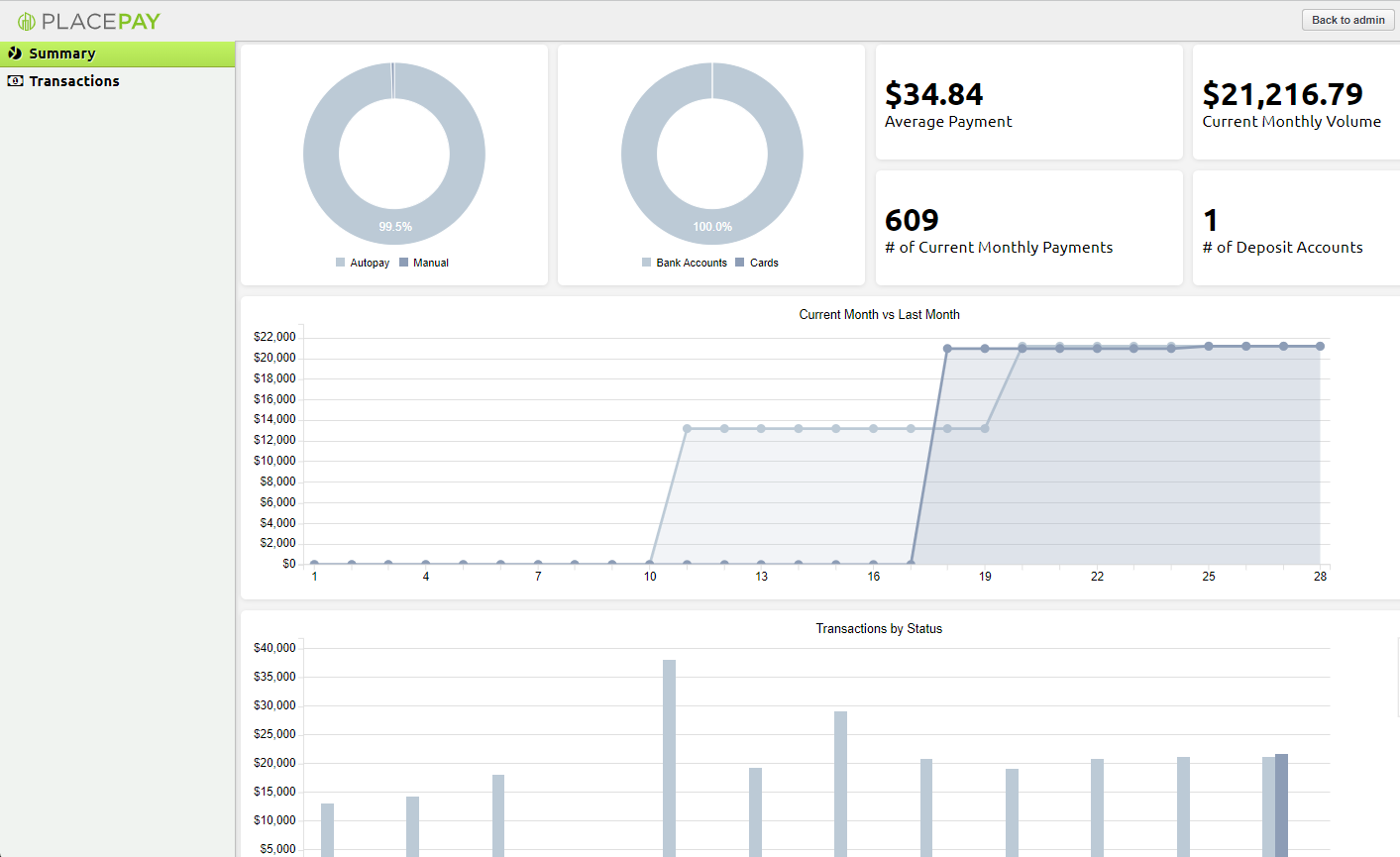 When you log into your dashboard it will by default drop you in on the Summary Page. This page gives you a handful of high-level data points. For integrated Property managers, this is not something we expect you to make much use of. All of the data being visualized is being passed to your accounting software provider.
Transaction Search / Transaction Research:
To look up a specific payment, click on "Transactions" on the left of your dashboard and then select "Search Transactions" at the top of the screen.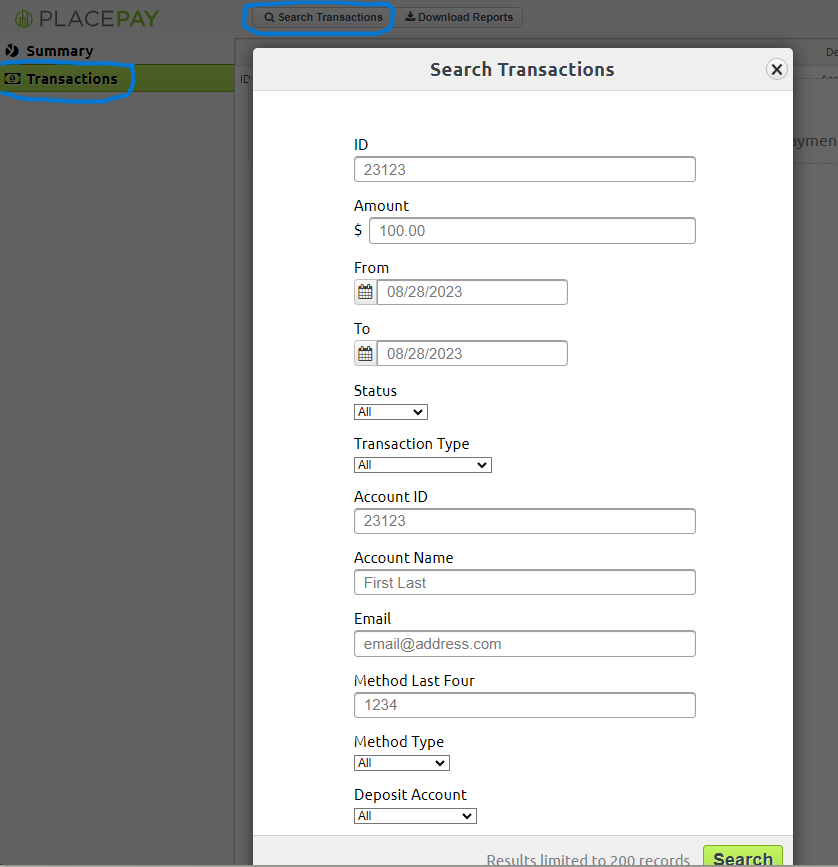 You can look for a payment by one of a variety of inputs (as shown above) or a combination of inputs. Keep in mind that this tool will only show up to 200 records at a time so try to narrow your searches down as much as possible using additional search criteria when applicable. Any results will show in list form. Click "View" at the right of any payment to view payment details and initiate refunds.
NOTE - Using this tool for troubleshooting or transaction research is most helpful when searching for particular transactions. To research a wide range of transactions we recommend exporting a csv report (instructions on this below).
Refunding Payments:
Follow the transaction search instructions above to find the payment you wish to refund and click on "View" next to the payment.
-Select "Refund" in the upper right-hand corner.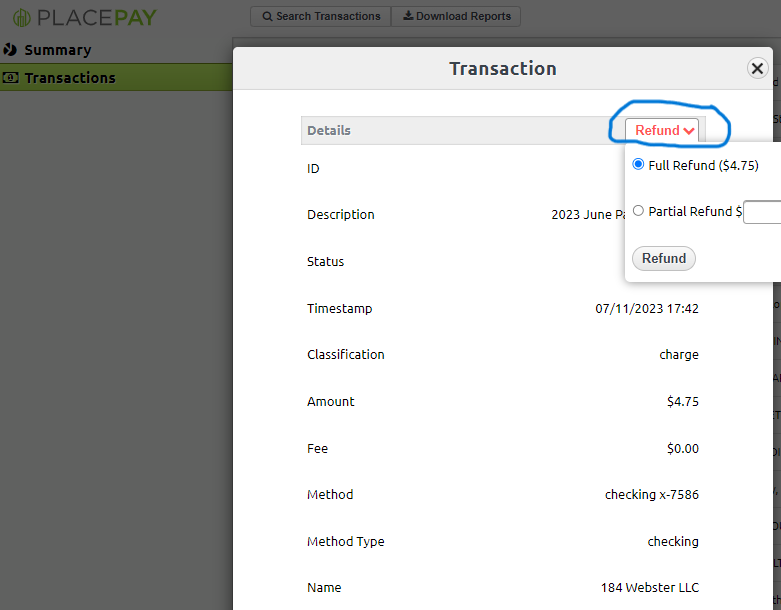 -Choose "Full Refund" or enter a partial refund amount from the "Refund" button/dropdown
-You and the payor will receive a confirmation email when the refund is initiated.
NOTE - If a payment was just recently made, it is sometimes possible to void the payment so the funds are never pulled from the payor's account. If a void is possible, there will be no "Refund" button. Instead, you will see a "Void" button. If you don't see anything at all, it may be in an in-between state. ACH payments especially may be beyond their void window but can not be refunded for a full 5 business days to protect against crediting a resident whos payment could still come back as NSF. In any case where you do not have a void or refund button option, reach out to help@placepay.com specifying the payment ID that you wish to either cancel or refund and our help desk agents can assist. Whenever possible we will expedite a refund or assist with refunds if there are many that need to be initiated.
Exporting Transaction CSV Reports for Bank Reconciliation and/or Transaction Research
1. Open the Reports Window by either, clicking "Transactions" and then clicking "Download" (as pictured below) OR by clicking the down arrow icon.

2. Under the Report Window you can select several different default reports. The most comprehensive report is the "Transactions Report". This will include payment and deposit details for all payments including pending payments.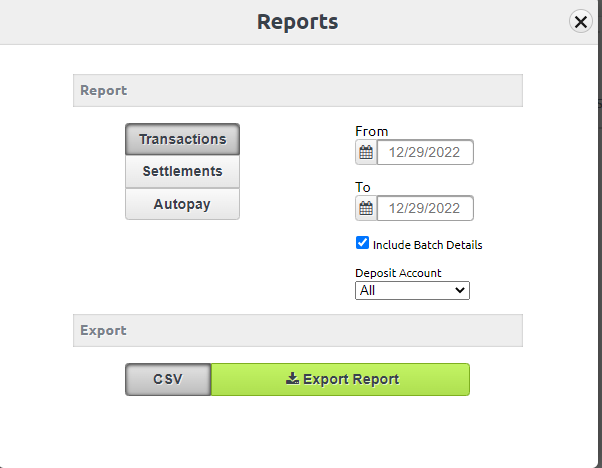 3. Select Date Range OR (Pro-Tip) leave the date fields blank to pull a complete history. If you have multiple payee/locations (ie deposit accounts), you can specify which "Deposit Account" you wish to see or leave it set to "All" to see complete data across all accounts.
Once you have downloaded the file open it in excel or google docs you can sort the columns to make your own custom reports, annual statements, failure reports, or analyze your data in any way you wish. Here are a list of data points available in the transaction report: